I love Hollywood Studios.
Last time we came to Florida, we did NOT get to ride the Toy Story ride, which was brand spankin' new at that time. So this time, we made sure of it. The first thing we did when we got in the park was go and get Fast Passes for it. The line was already at 80 minutes at that time, and the Fast Pass return time was about 3:00pm. Talk about crazy!
By the way, it's NOT worth an 80 minute wait. Yeah, it's fun. No, it's not amazing.
Here are the things I love about Hollywood Studios.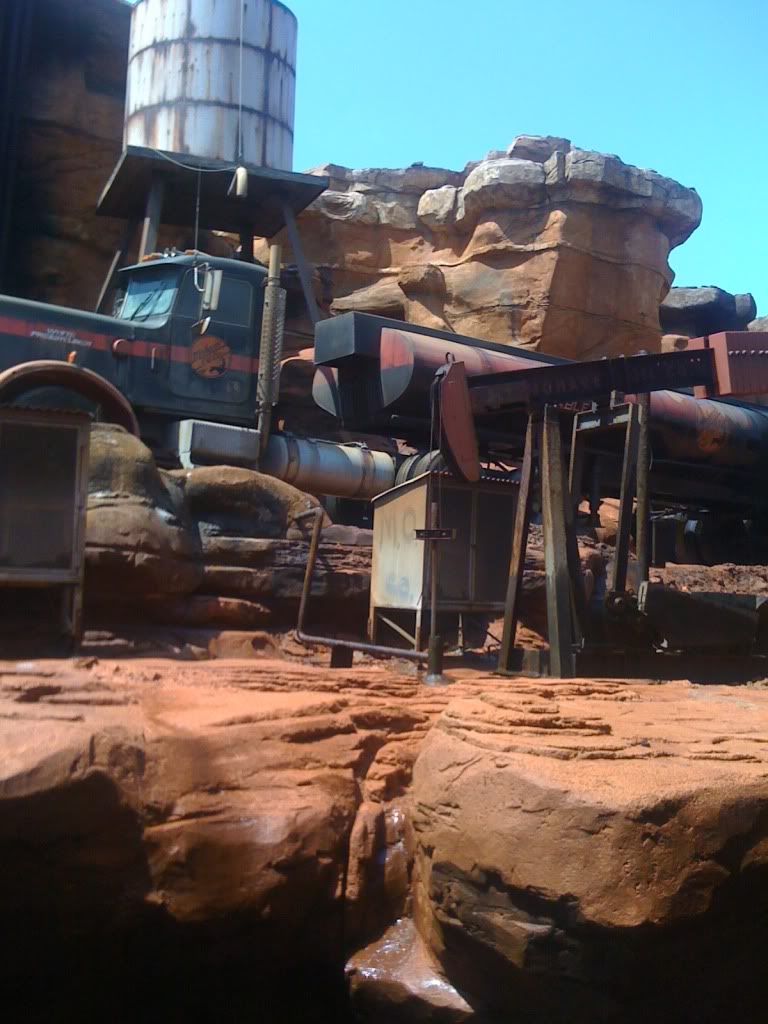 The Backlot Tour
The Backlot Tour is a behind the scenes look at how they make movies. First, they film a few movie scenes right in front of you, edit them and then play it back like it's part of a real movie. It's really cool. Then you get on a tram thingy and you get a tour of behind the scenes stuff. We saw a bunch of props that have been used in past movies, including Herbie the Love Bug! Yes, he's a "prop."
Then, they take you to an actual movie set, which is the picture above. And then they have explosions. HUGE explosions. I could literally feel the heat of the flames on my face. And then... they do this:
And you get a little bit wet. It's really cool. Movies put a lot of detail into their sets to make them look realistic.

Another fun thing to do at Hollywood Studios is take the art class. An artist teaches you how to draw a Disney character. Last time we drew Goofy, this time we drew Scrooge McDuck from Duck Tales. Do you remember Duck Tails? Man, I loved that show. I really like how my drawing turned out, and I do NOT consider myself a good artist. So in this class, anyone can draw an awesome Disney character.

There are two AMAZING rides here.

The Tower of Terror, which is also in California Adventure, but it is not exactly the same as the one in Cali. Personally, I like the one in Cali better, because the view at night when they take you to the top and open the doors is amazing. Here it's just a view of the park, which is cool, but, I really love nighttime city views.
The Aerosmith Rockin' Rollercoaster. This is much like Space Mountain in DisneyLand. There is a Space Mountain in the Magic Kingdom in Florida, but it's not the same as the Space Mountain in DisneyLand. Anyhow, this is like Space Mountain at DisneyLand only cooler because it plays Aerosmith music. Totally fun! We almost didn't get to ride this one at all. We were so worried about getting Fast Passes for other rides that we forgot to get one for this ride until later in the day. By the time we got down to this section of the park, all of the Fast Passes were gone, and the wait time was 90 minutes. 90 minutes! I can say that this ride is worth a 90 minute wait, but, it's also a ride I want to ride more than one time, without waiting 90 minutes between each ride.
This ride also has a single rider line. But! They CLOSED DOWN the single rider line! I was so upset!
So what did we do? I asked a cast member if the single rider line was closed down for the rest of the day, and they said that it wasn't, and that it would open up after it cleared out a bit. So we waited. And waited. And waited. We waited for an hour and a half. Hey, I'd rather wait sitting than standing. But finally they opened up the single rider line, and we rode this ride four or five times in a row with a very short wait.
It was a great day!
The next day we had to wake up super early (3am Utah time) to catch our flight, and we were home at 2:00pm.
Best vacation ever. And now... we won't be able to go on a real vacation for a long time.